By the time I get halfway through the eclectic sculpture tour, I'm listening, if a bit confused.
It's mid-morning, the bugs aren't biting thanks to a pleasant breeze, and I'm standing in a sunny field on Alnoba's sprawling 600-acre grounds in Kensington.
I paused for a moment to admire a sea of ​​wildflowers, framed by green tree branches and a blue sky dotted with puffs of cloud.
That's when it happens. My eyes drift to a stone wall, tucked behind a section of footpath, and without warning I wonder if the way the end of the wall dissolves into a puddle of small stones is an existential statement about fragility and impermanence. of life.
The thought comes out of nowhere, and I let out an embarrassed little laugh.
Uh, maybe this pile of rocks is… a pile of rocks, because, well, it's the Granite State, and the rocks are coming.
Or maybe this tour touches me, in the best possible way.
Alnoba's mission is a fiery blend of conservation and connection with the planet. It's a place meant to provoke and inspire, from inspirational quotes etched on upright rocks to team-building ropes courses and meditative gathering spots.
Founded by Alan and Harriet Lewis and built around social and climate initiatives, Alnoba is only open to the public through registered tours and special events.
On a recent Friday, tour guide Susan Feltus greeted a group of guests from New Hampshire, Massachusetts and Rhode Island in the parking lot for a walking tour of some of the sculptures.
The fact that some of us have never been here works in our favor, as we immediately begin to scan the woods, open fields and horizons for any signs of creativity – and find it in places unexpected.
Feltus is a spirited host, keeping the group – a mix of newcomers and regular visitors – on pace within the 90-minute time limit. She provides details about the artists and sculptures, and throws in jokes and questions.
After a while, the line between art and nature begins to blur and even changes perspective as we get closer and walk around each sculpture.
"It made me much more aware of colors and shapes," says Feltus.
In the woods is 'Colossal Fragment', a 2016 sculpture by South African artist Lionel Smit. It is a serene and introspective bronze face that curves in the form of a mask.
Be sure to walk around the room, especially if you visit on a sunny day. The sun filters through the trees and shines on the back of the blue-green sculpture, with its inverted view of the face.
It is placed in front of a 2014 sculpture created by Shany Van Den Berg, also from South Africa. The abstract bronze work reflects her early work as a nurse. The indistinct head seems covered with successive layers of medical bandages. Harriet Lewis, who chose most of the pieces displayed at Alnoba, said she felt a connection to this sculpture because her mother was a psychiatric nurse.
Some visitors feel a sense of healing when looking at the sculpture, but one recent visitor said quietly, "She looks mummified. »
What do you see?
The purpose of this place is to get people to notice colors, perspectives and shapes that they might otherwise overlook or take for granted.
It's not always obvious and it's not always pretty, says Feltus.
A visitor favourite, made in 1994 by Joseph Wheelwright, rises from an incongruously picturesque field of yellow wildflowers. Called "Smokejumper", the name of the piece refers to firefighters who parachute in to reach and fight fires from a distance.
But the skeletal figure, and others he created, were also inspired by Wheelwright's childhood mistrust of creepy trees with bare branches on winter walks from the bus stop. As an artist, he reversed this discomfort, using the root structures of a tree for bony fingers and upper body arms. Up close, it's easy to imagine the bump on the back of one of his feet like a calloused heel and the pimples on the back like a prickly chest.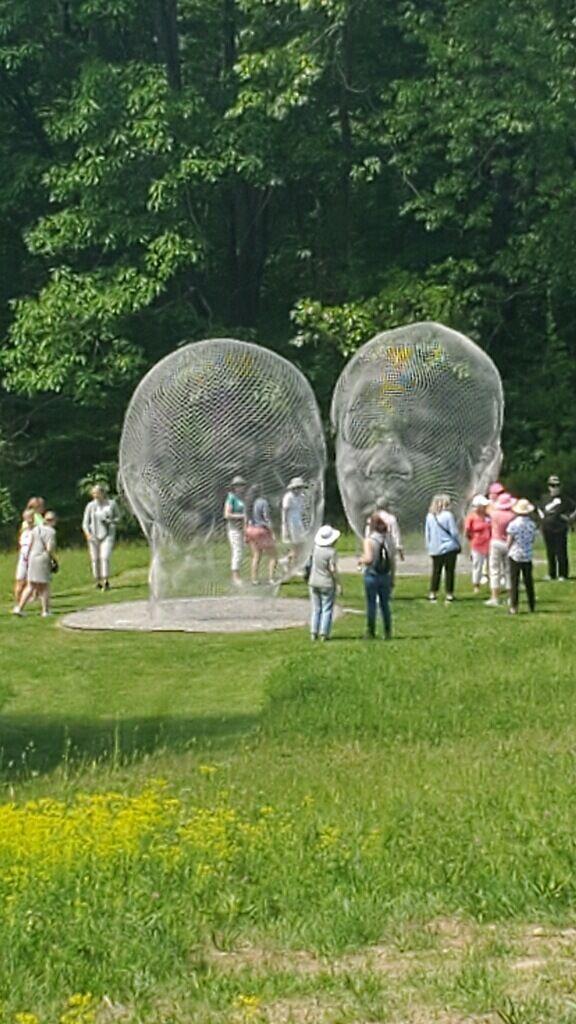 Next, we head to two amorphous heads made from wire mesh. From afar, it looks like a computer-generated special effect. This 2011 creation – 'Nuria and Irma', by Spanish artist Jaume Plensa, appears to superimpose outlines, with recognizable curves of foreheads, noses and chins, over the landscape.
But it also has a sense of invisibility, as you can peer across the room to see the landscape or an assortment of visitors dressed in colorful summer shirts as they point above the features on large-scale heads. .
It also comes with a sort of optical illusion. From further away, the couple appear to be looking in different directions, but when visitors come to a certain point on the downward slope of the sculptures, the perspective changes and the heads seem to face each other.
"We always have one foot in normal life and one foot in the most amazing abstraction," Plensa said in her artist statement.
It is a message that is repeated throughout the tour. A visitor equates it with being open to possibilities and seeing art as an extension of the landscape.
Children's favorites
Two pieces that attract children are "Wildwood" and "Going Going Gone".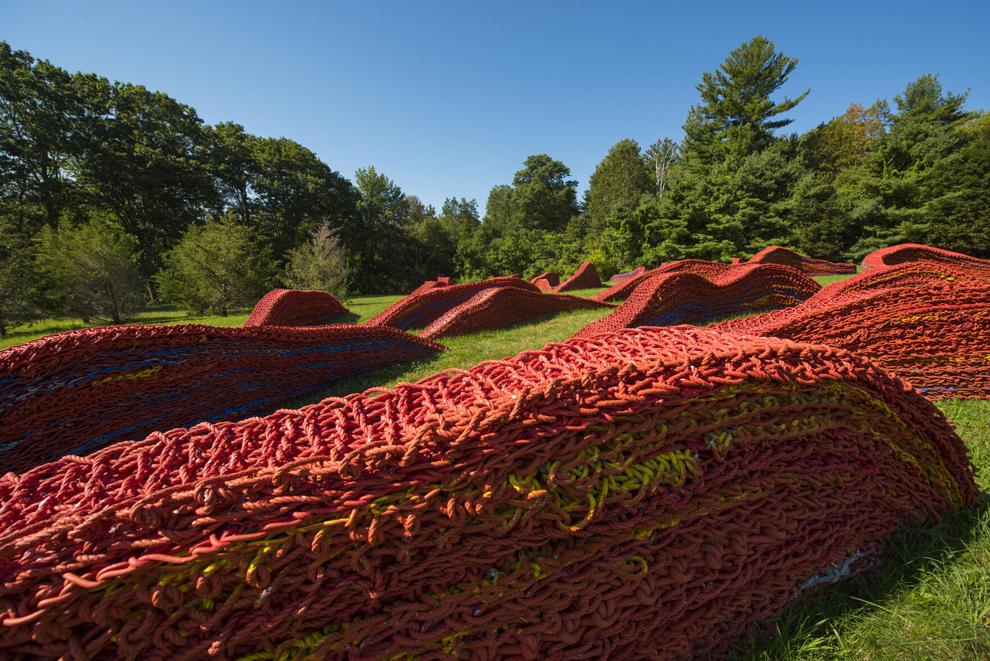 Artist Patrick Dougherty and his assistants in 2019 wove the "Wildwood" maze from willow branches and saplings from the Alnoba property. It mimics the twisting tree roots of the forest and invites visitors on a short winding route through swirling, rotating growth.
"If you were 7, you'd be in it now," laughs Feltus, standing next to the hut-like structure.
"Going, Going, Gone," a 2016 piece by Orly Genger of New York, is a wave-like installation made from hand-crocheted recycled lobster rope. It is painted bright red and ripples on the green grass as if diving under the turf and reappearing a few meters later.
"Going, Going, Gone," with a nod to sustainability and resource reallocation, invites interaction. People can touch and walk on the art. I've tried it on and the high tops feel solid, with a hint of flex under my sneakers.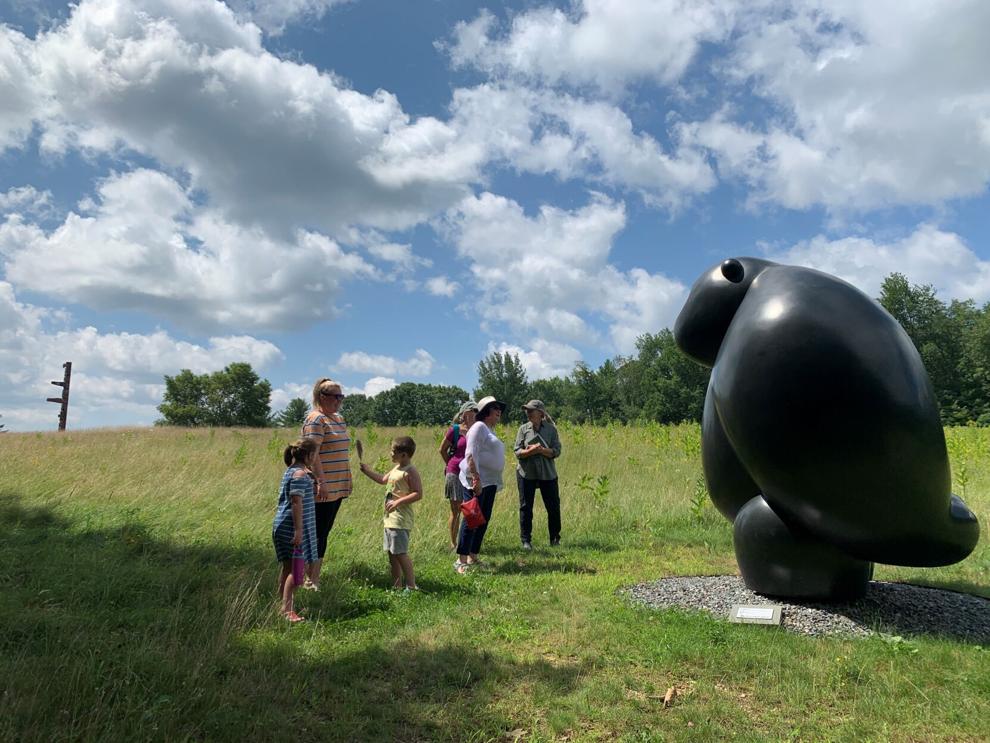 We also visit the "Gorilla", a portly figure that some find cute while others see it strained with anger (Brett Murray, 2017); the contemplative silver sculpture "Julia" (Jaume Plensa, 2011); seven figures seated in an open meadow, their knees bent and their arms hugging the beeches (Plensa, 2016); and the "Wild West Buffalo" made from salvaged scrap metal, including shovels, rusty car parts and pitchforks (John Lopez, 2013).
Throughout the tour, the conversations range from social, economic and racial issues to things ethereal and playful.
As we emerge from the woods at the end of the tour, five women in the group make their way to what look like large, oddly staggered spools outside Alnoba's main building. Walkers settle into cup-shaped seats, grip the ledge on both sides, and lean forward and sideways to get things moving. Then they wobble in circles, like well-versed Weebles who don't fall.
The timing seems like a perfect way to end the tour. Life and art are what you make of them.