Contextualizing the aesthetic dialogues between Caro and his fellow artists, Caro and North American Painters present important floor sculptures by Caro, including Capital (1960), Month of May (1963), Smolder (1965) and Hog Flats (1974). Associated with these works are paintings by American artists Helen Frankenthaler, Kenneth Noland, Jules Olitski and Larry Poons, as well as Canadian artist Jack Bush.
Caro was one of the most influential British sculptors of his generation and his career had a transatlantic reach. On a trip to the United States in 1959, he closely observed emerging American art, met the work of David Smith, and befriended Frankenthaler, Noland, and the critic Clement Greenberg. Upon his return to London, he initiated a radical new approach to his practice by welding and bolting together beams, plates, tubes and other steel members. In the 1960s, he painted these constructions in bold, flat colors, developing a range of other finishes over the following decade. As one of the first artists to abandon the traditional sculptural pedestal, Caro achieved works that took up the same space as the viewer, and by fusing them with horizontal elements combined with linear and flat structures, he effectively activated their environment.
Caro's innovations in composition, geometry, and the use of color and space echoed in the work of painters he admired. Loosely grouped under the banner of Color Field painting or post-painter abstraction, the work of these artists has been recognized by Greenberg for its "lucidity" of color and its "physical clarity and openness". Approaching the medium as a flat and uninterrupted plane, Bush, Frankenthaler, Noland and Poons applied diluted oil and acrylic paint to a raw canvas, generating compositions with very saturated colors. Olitsky continued his experiments using a spray gun, producing paints marked by fields of brilliant hues. In Noland's case, this search for color and form led him to develop shaped canvases. Such inventions have a special resonance when viewed in conjunction with Caro's use of industrial materials.
In addition to his influential tenure at Saint Martin's School of Art in London, Caro returned to the United States from 1963 to 1965, having accepted a teaching post at Bennington College, Vermont. There he frequently met Olitsky, who was part of the faculty, and Noland, who lived nearby. Frankenthaler also had close ties to Bennington, having graduated from college in 1949. Caro would maintain close friendships with avant-garde American painters of his generation throughout his career, exchanging ideas and exploring new possibilities. aesthetic. According to Paul Moorhouse, exhibition curator and CEO of the Anthony Caro Center, "In the early 1960s, Caro pioneered the creation of abstract sculpture, but he was not alone. His conversations with Noland, Olitsky and other painters had a two-way direction, encouraging all of these artists to explore radical new approaches. This exhibition reveals the ways in which, together, they transformed the language of art.
A catalog containing a Moorhouse essay and archival material, including correspondence between Caro and his fellow artists, will be published to accompany the exhibition.
The summer 2021 issue of Quarterly Gagosian presents "Helen Frankenthaler: The Sculptures of a Painter", an account of Frankenthaler's first body of sculpture, produced in Caro's studio in the summer of 1972, with texts by the two artists.
Caro and North American painters From January 27 to March 5, 2022 Gagosian Grosvenor Hill.
About the artist
Sir Anthony Caro was born in New Malden, England in 1924 and died in London in 2013. Collections include the British Council, London; Tate, London; Kröller-Müller Museum, Otterlo, The Netherlands; Museum of Modern Art, New York; and National Gallery of Art, Washington, DC. Exhibitions include Whitechapel Art Gallery, London (1963); Hayward Gallery, London (1969); Museum of Modern Art, New York (1975, trip to Walker Art Center, Minneapolis; Museum of Fine Arts, Houston; and Museum of Fine Arts, Boston); Museum of Contemporary Art, Tokyo (1995); Tate Britain, London (2005); Metropolitan Museum of Art, New York (2011); and Museo Correr, Venice (2013). Caro was knighted in 1987 and received the Order of Merit in 2000.
Categories
Keywords
Author
Marc Westall
Mark Westall is the founder and editor-in-chief of FAD magazine Founder and co-editor of Art of Conversation and founder of the @worldoffad platform
Gagosian launches Picture Books, a new label launched in December that publishes novels by prominent authors as well as contributions from famous […]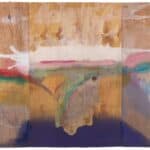 People ask me quite often which galleries I recommend. Over the past few weeks, and quite possibly the next […]
Gagosian presents two sculptures by Dan Flavin: untitled (to Barnett Newman) two (1971) and untitled (to Sabine and Holger) (1966–71). The dates of the […]
Gagosian announced the portrayal of Rick Lowe. Lowe's many collaborative projects, undertaken in the spirit and tradition of "social sculpture", are associated with a vast body of painting, drawing and installation. Working closely with individuals and communities, he has identified a myriad of ways to exercise his creativity in the context of daily activities, using it to explore concerns about equity and justice.